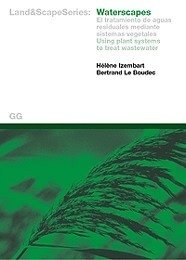 WATERSCAPES. TRAT.AGUAS RESIDUALES M.SIST.VEGETAL. Editorial Gili
Ingrese aquí su código postal para calcular su costo de envío:
Although modern wastewater treatment plants are able to treat such pollution their techniques are not applicable to small municipalities, and especially not to private houses. Through precise analysis of thirty examples of wastewater treatment plants located in different European countries and in the USA, the authors demonstrate the benefits of using water plants in the treatment of wastewater for all kinds of typologies and communities. The different examples are analysed from a functional angle and as an important element of consideration when planning landscape.
NEWSLETTER
Suscribite y recibí las mejores ofertas y beneficios.